Two Stage Watering Vacuum Pump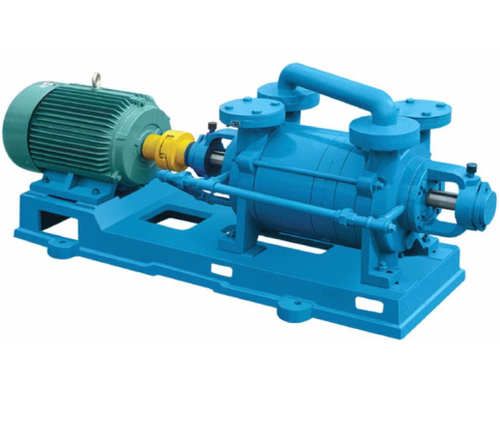 Two Stage Watering Vacuum Pump
Price And Quantity
Piece/Pieces

38000.00 - 300000.00 INR
Product Specifications
304 Stainless Steel And Metal

Diaphragm Pump
Product Description
Two stage water ring vacuum pump is used in pharmaceutical, chemical, textile and process industries in several processes. This is simple to operate and maintain vacuum pump that generates high vacuum. It operates and remove air and corrosive gases, and allow some solid particles. In the cylinder housing partially filled with sealing liquid, eccentrically positioned multi-blade impeller rotates and the the centrifugal force generated creates a liquid ring against the cylinder's inner wall. Vacuum is created because of the rising cell volume on the inlet port side. Whereas impeller cell volume falls on the other side, which is discharge port side. Discharge occurs through the discharge port when the pressure increases. Through the sealing-liquid inlet, sealing water is continually supplied to the two stage water ring vacuum pump.

Max. Vacuum Achieve :- 725 Mm.Hg
Capacity :- 80 M3/Hr To 500 M3/Hr
Recommended Motor :- 5 HP To 20 HP
Material :- C.I Partial Bronze, Partial S.S, Rubber Lined
Sealing Water Temp :- 30 Degree C
Drive :- Direct Coupled
Features:
Entrained liquid drops, considerable vapors, or occasional slugs of liquid can be handled without damage to the pump or significant effect on capacity. In the case of vapors, the pump can also serve as a condenser
No lubricant or oil required within the pump itself. Thus the air or other discharge gases are not contaminated. The liquid which forms the ring (usually water) serves both as a sealant and a pumping media
A wide selection of materials and seal liquids can be used when corrosive gases and vapors are being pumped The pumps contain no metal parts that rub against each other. Packing glands and bearings are accessible from the outside. There is no clearance volume and the pumping action is smooth and uniform (non-pulsating). The only moving part is a balanced impeller which reduces noise and vibration. This means lower foundation, installation and service costs
The pump can be provided with the partial liquid recycle, closed-loop liquid operation, automatic control, and other features. Mechanical seals can be provided as an option.
Trade Information
Dadra and Nagar Haveli, Chandigarh, Himachal Pradesh, Meghalaya, Andaman and Nicobar Islands, South India, Central India, North India, East India, West India, Andhra Pradesh, Assam, Arunachal Pradesh, Bihar, Delhi, Goa, Jammu and Kashmir, Jharkhand, Karnataka, Madhya Pradesh, Maharashtra, Mizoram, Manipur, Punjab, Pondicherry, Rajasthan, Sikkim, Tamil Nadu, Telangana, Tripura, West Bengal, Nagaland, Uttarakhand, Daman and Diu, Lakshadweep, Uttar Pradesh, Haryana, Gujarat, Kerala, Odisha, Chhattisgarh, All India